At the 19th Annual Customer Contact East: A Frost & Sullivan Executive MindXchange event, Wilson Nieves shared statistics and insights about hybrid work and employee engagement. Read on for key ideas and ways to keep employees – and your customers – happy and satisfied.
ABSTRACT
Over the last decade or so, the global workforce has dramatically evolved, and it's paramount that organizations have a deeper understanding of their employee's needs, wants and expectations. Without this level of understanding, most organizations will be challenged to attract and retain the talent, necessary to remain competitive in today's economic landscape. One of todays must talked about workforce challenges, is the notion of remote work. The question for organizational leaders is how to effectively deploy a hybrid work model that meets the needs of both the workforce and the employer.
KEY INSIGHTS
The ABC's of deploying a hybrid work model
Ways to drive effective employee engagement in the hybrid work model
Tools to measure productivity for your hybrid workforce
"The workforce has spoken. Have we been listening?" Recent findings about today's changing workforce:
Employees overwhelmingly expect flexible options

88% of respondents in Citric Systems survey look for jobs that offer complete flexibility
76% are more likely to prioritize family and personal interests over proximity to work, and will pursue jobs in locations where they can focus on both – even if it means a pay cut
A growing number of employees are willing to move away from larger cities, creating new work hubs in rural areas

Employees want to re-imagine how productivity is measured; they want to be measured on value they deliver, not the quantity of work

69% of HR execs believe it would be better to measure value
ACTION ITEM
A hybrid work model needs to be part of a holistic workforce strategy:
Re-engineer talent management to better align with changes in the workforce

Leaders looking with a broader lens can find talent to boost an organization's creativity and productivity
Talent exists everywhere – people who have put their careers on hold, retirees who want to work a few hours a week, leverage part-time, gig and contract workers

Prioritize learning and development

Upskilling and reskilling will be critical given changes in the global economy and customer needs, especially given rapidly increasing automation
SHRM findings indicate that 82% of employees and 68% of HR executives believe that workers will need to hone current skills or acquire new ones yearly or more
HR executives believe that having collaborative technology in place to enable agile learning is the most important factor in recruiting and retaining the best talent
Offer micro-learning opportunities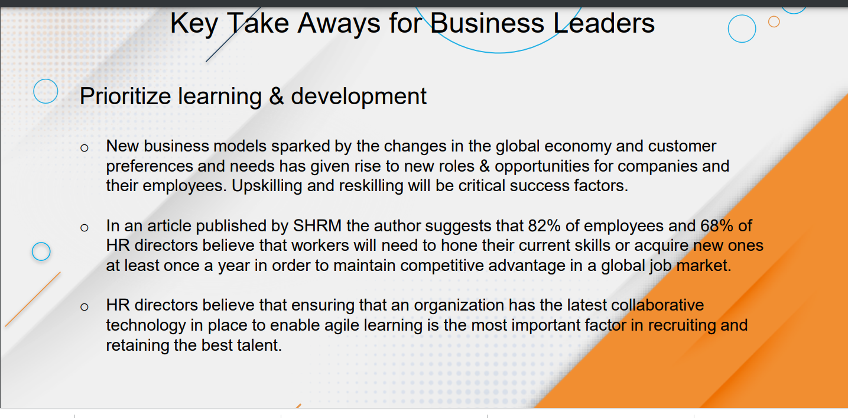 BEST PRACTICES
One size does not fit all – continuously tweak the workforce model
Have an ongoing dialogue with your workforce, seek continuous feedback, understand ongoing challenges
Start conversations about what creating value looks like to the organization
FINAL THOUGHT
A happy employee will deliver the desired experience to the customer – and data trends show that employee satisfaction will lead to customer satisfaction.
Touted by many as a passionate operational leader and champion of human experiences, Wilson has spent over 30 years in the contact center and experience management space. Today he spends much of his professional time, working with globally diverse teams, in the convergence of technology and human ability, to deliver on the brand promise.