A Frost & Sullivan Virtual Think Tank Article
Market Challenges Signal Hard Choices
The contact center (CC) represents a broad and mature market with almost 40 years of development. It comprises dozens of providers, catering to sites as small as 10 agents to thousands of globally dispersed representatives in a single enterprise. Figure 1.0 shows the variety of principal market segments in contact center ecosystems.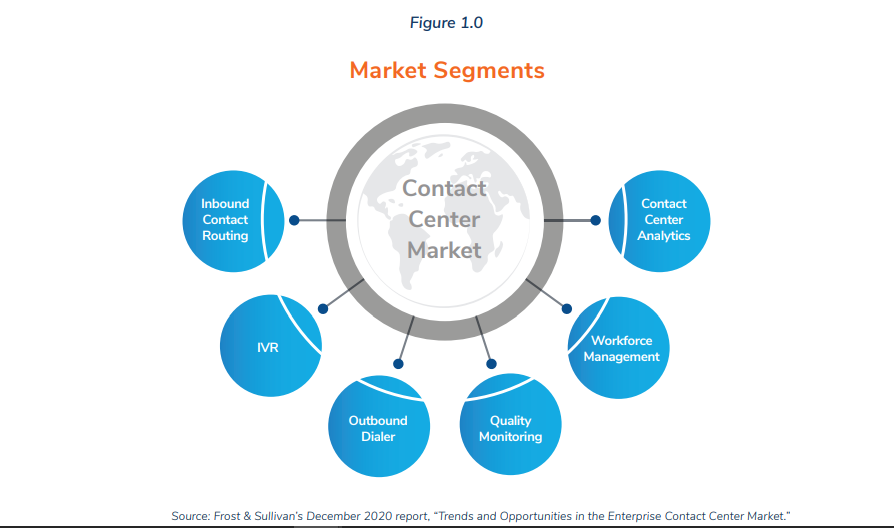 Figure 1.0 shows the variety of principal market segments in contact center ecosystems.
Overall, the premise-based contact center systems market, which still represents the vast majority of installed contact centers today, is forecast to exhibit a timid 1.8% CAGR (compound annual growth rate) globally from 2021-2023. The cloud CC segment is set to enjoy prosperous double digit growth (13% year-over-year) during 2021 and 2022. As a whole, this market is set to achieve 9 billion USD in revenue by 2021.
Listed below are some of the current cloud contact center trends and challenges identified by Frost & Sullivan:
Growth in the cloud CC market will be driven by end-of-life cycles of existing system platforms, new workforce optimization (WFO) tools, redesigned agent desktops, the continual addition of new channels, richer integrations to third-party applications, and new analytics capabilities.
Worldwide, the CC market is moderately shifting from on-premise systems to cloud solutions. In this context, leading vendors clearly articulate migration strategies and positioning options to integrate cloud-based applications with on-premise systems to smooth the transition for existing premise-based customers and for those that don't want to go "all in" to the cloud (hybrid approach).
By the start of 2020, roughly 84%1 of enterprises were already pursuing digital transformation strategies designed to build agility, security, and resiliency into their business processes and infrastructure. While the ensuing pandemic destabilized many businesses, Frost & Sullivan research shows that it also helped companies prioritize and accelerate the most critical digital strategies needed to reach customer and operational goals.
Over the past five years, Frost & Sullivan research has uncovered a number of drivers of contact center cloud conversion, including:2
Lower IT costs.
OPEX (SaaS) model.
Reallocate IT staff to core business needs.
Reduce total cost of ownership (TCO).
Easily add applications and capabilities.
Scale with peaks and lulls of contact volumes.
Scalability and flexibility.
Take advantage of new features and capabilities with each new release.
Focus on core business activities.
Reimagining the Customer Experience
Improving the customer experience (CX) is a requisite competitive factor for business-to-business (B2B) and business-to-consumer (B2C) organizations. While many customer interactions had been migrating to digital experiences, the 2020 pandemic accelerated this for nearly every industry. This viral epidemic caught many businesses unprepared to withstand a natural disaster of such magnitude. Government and organizational mandates for social distancing forced many workers out of their offices and into their homes with limited or no ability to use business-class communications tools. The worldwide quarantines and lockdowns revealed a general lack of business preparedness to maintain operational continuity when access to physical office spaces became limited.
Organizations with the means to adapt quickly turned to cloud services to keep remote workers productive and business operating. In this time of need, cloud-based communications and collaboration solutions proved most effective at bridging people across geographic distances.
Frost & Sullivan has researched CX trends for many years and recently spoke to several CX executives. Industry challenges include disaster and continuity planning, system integration across disparate data silos and how the events of 2020 impacted future plans. Enacting a robust cloud strategy can help mitigate many of these issues, and many organizations are exploring, if not fully engaged in, cloud implementation.
Bernie Sides, Director of Customer Contact Center, Southern California Gas, told Frost & Sullivan, "We're still a holistic enterprise seeking out a cloud strategy. So we're still trying to determine what it looks like for us." David Funck, Chief Technology Officer at Aspect Software, agreed that the cloud trend is important to contact centers. "One of the reasons you want to move to the cloud is to take advantage of the distributed computing, the big data capabilities," he said.
"You're going to unlock a tremendous amount of additional power and capability, and you really need to re-look at those business processes, and that's hard to do. It can be a painful step and another thing to consider when your move to cloud is best in breed versus a suite. At Aspect, we like to offer both because it depends on the size of the customer and the needs of the enterprise customer." —David Funck, Chief Technology Officer at Aspect Software.
Wanda Taylor, Director, Command Center & Business System Support for Blue Cross North Carolina, discussed with Frost & Sullivan the topic of cloud migration planning. She noted, "Whatever decision you're making, think more futuristically instead of [only in] the present, because I believe sometimes that's where we hold ourselves back. Where do you want your service delivery to be over the next three to five years? Not what it is today."
Along with cloud and mitigating disaster recovery, business continuity planning must be considered. Aarde Cosseboom, Senior Director, GMS Technology and Product at TechStyle, said, "The Philippines doesn't have very reliable at-home internet. So we're thinking about diversifying our workforce to business process outsourcers (BPOs) that have agents that are already in the work-from-home environment in other countries so that if, due to the pandemic or some other national disaster, we have to shut off the internet or shut down a major part of their economy, we're not putting all of our eggs into one economic basket."
What to Do Next
The goal in assembling this group of thought leaders was to stimulate ideas and exchange useful, practical advice as companies continue moving contact center technology to the cloud. All of the panelists agreed that before choosing a cloud technology or mode of approach, companies need to consider:
Mapping your strategic cloud initiative.
Choosing the right cloud technology.
Key benefits of the cloud.
Typical length of migration.
How to minimize disruption when moving to the cloud.
A phased approach versus a quick "light switch" approach.
It will be interesting to see how priorities and businesses goals, and the challenges they face, continue to evolve. No doubt, customer experience and agent efficiency will remain high on the list of priorities, along with new, competitive ways to leverage data and insights. While 2020 was a difficult year in many regards, the sharp growth in cloud adoption likely means that many organizations are now much better positioned to address new challenges and to be more competitive and innovative.
Endnotes
1 Frost & Sullivan's December 2020 report, "Trends and Opportunities in the Enterprise Contact Center Market."
2 Ibid.
3 All quotes are from Frost & Sullivan's Virtual Think Tank series, "The Contact Center's Journey to the Cloud."