Think about it. 20 years ago, the model for customer service meant giving consumers a toll-free number to call for support. In the years since, simple online automation of basic tasks has evolved to today's intelligent virtual agents (IVAs) and chatbots. They are leading conversations and perform ever-more-complex tasks; responding to and anticipating user requests based on real-time data about user preferences, context and available products and services.
As we are all learning, IVAs now come in a multitude of forms to help contact centers achieve unique goals. Essentially, bots or virtual agents are computer programs built to engage with an individual that emulate humans using either web chat or speech interfaces. They can range from basic applications that answer simple queries, to fully conversational apps with intelligence embedded and integrated with back-end databases. Inherent in the IVA design, is the provision of human-like guidance.
Great. So now you might ask: what's under the hood and what are the inner workings? Here are the six key technologies that provide the foundation for VAs:
Machine learning (ML)
Artificial intelligence and artificial general intelligence (AI/AGI)
Natural Language Processing (NLP)
Real-time analytics
Natural Language Generation (NLG)
Web services and user profiles.
Figure  1.0 below, illustrates the basic elements of conversational AI architecture:
Figure 1.0
Conversational AI Architecture Platform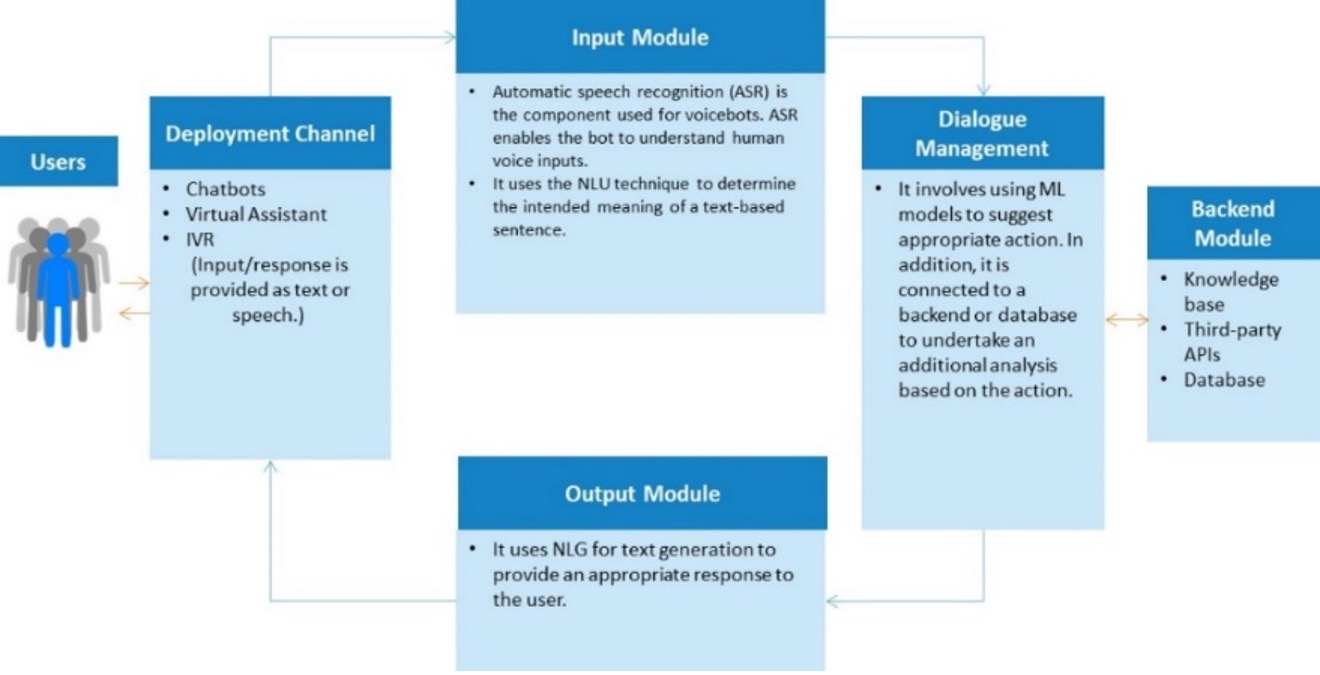 Source: Frost & Sullivan  2023
The cost pressures associated with staffing call centers, and the evolution of society to a "texting culture," have led to a happy intersection of how companies wish to serve and how customers wish to be served. Smack dab in the middle of that intersection stands conversational AI and intelligent virtual agents.
The object of automated assistance today is to truly engage customers to drive revenue and relationships. IVAs are a key component in a strategy that helps companies avoid a siloed approach to the AI stack; and, instead, can meet a range of users' needs, and scenarios across the enterprise, with the right combination of IVAs, IVRs, chat, chat and messaging bots, and apps.
Intelligent virtual agents transcend mere understanding of user input to actually responding to what a user says, creating the experience of a conversation; they provide the full-service experience to customers in a self-service fashion, while companies reap the benefits of lower cost, scalability, and consistency in delivery.  Finding partners who can apply cognitive technology to consumer interactions, to deliver on the promise of conversational A.I., is the best path to building engagement platforms that will deliver successful outcomes.
Michael DeSalles has extensive experience covering a broad range of sectors, leveraging long-standing working relationships with leading industry participants and senior executives in the CX industry. His areas of focus include customer care outsourcing, skills-based routing, BPO nearshore deployment, home-based agents and contact center security.
Frost & Sullivan, a leader in Growth, Innovation and Leadership for over 60 years, has rigorously tracked the CX industry for the last decade.
Frost & Sullivan, a leader in Growth, Innovation and Leadership (GIL) for over 60 years, has tracked the CX industry rigorously for the last decade.